Nico Side Hung Restricted Window Hinge 12" 304mm
When you have children or live in an apartment that is not on the ground floor then our restricted window hinges are a great idea, they protect children from falling by ensuring that the window only opens approx 100mm unless you press the release push button and open out, once you close the window the restrictor clicks back into its restricted place again.
These hinges are a great replacement if you need new hinges and also need to install child window restrictors at the same time, buying these hinges means you will save money and fitting time on both items.
Dimensions:
85 Degree Opening
Steel Construction
Stack Height 13mm
Available in 12″ & 16″ – (Top Hung) or (Side Hung)
4mm packers to convert 13mm stays to a 17mm stack height. CLICK HERE
Fitting screws. CLICK HERE
Colour/Finish:
Hinge designs may change from time to time, but the sizes remain constant so variations in the images and hinges received may vary, however it is the same product.
Description
These 13mm stack height hinges are designed to open to approx. 10cm for safety and security.  They have a push-button release to allow the window to open to approx. 85 degrees, they will stay in an open position by means of friction & are common on side-hung uPVC or aluminium.
Some reasons why your friction window hinge may need to be replaced:
You are having difficulty when opening & closing the window.
The window feels jammed or seized.
The window sash is not closing tightly into the frame.
There are draughts coming in the edge of your window frame.
The window slides back closed after you open it.
All of the above are symptoms of a failed window hinge, and failed window hinges not only allow cold draughts into your home, they are also a security risk.
Screws
Use our repair screws if you are drilling into existing holes and self-tapping screws for new holes. CLICK HERE
Stack Height:
Our hinges are 13mm as standard, if you are not sure the height of the stack please air on caution and order our hinge packers which are 4mm and can ensure that if your stack is 17mm you have the parts you need to repair your window. To order hinge packers CLICK HERE
If you are not sure or need a 17mm stack height we recommend purchasing our hinge packers, which clip onto the hinge and convert a standard hinge into a high stack
Ordering the correct hinge
This hinge has a 13mm Stack Depth (see choosing the right hinge diagram). A 17mm Stack is also available but you will need to contact us on our contact page for these. To order the correct hinge you must measure the hinge you are going to replace, please ensure you:- Chose the right hang type – are your windows:
Top Hung (swings from the top with handle on the bottom of the sash) or Side Hung (swings from one side with the handle on the opposite side)
Hinge Length – length of the hinge part that fixes to window frame
We have the following hinges to order: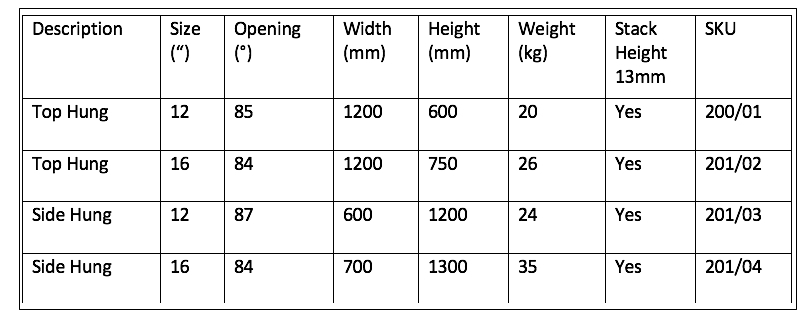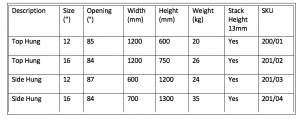 Please Note: Returns are gladly accepted within 14 days, in original packaging, and unopened/unused.  There is a 25 % re-stocking fee on all returns except faulty or incorrectly supplied products.  There is no refund on any door or window seals as these are cut to size. the restocking fee will be deducted from the total transaction amount unless the item is returned as a faulty or incorrect part supplied. We do not refund the original shipping. We do not exchange any products.  If you are returning a faulty or incorrectly supplied part we will send you a replacement or a refund as soon as we receive the original parts back to us.  Please contact us prior to ordering if you having any queries regarding these terms and conditions.  Click HERE for the returns form.  This MUST be filled out and all returns must come with these returns for, otherwise, we cannot accept them,
If you have queries on any of our products or if the part you require is not on our site please use our CONTACT FORM to send us a picture or part number of the part you need, we will get back to you and get you sorted ASAP.
People who bought these also bought: