Your front door is the handshake to your home, its the first thing anyone notices when they arrive to your house, and one of the most expensive single purchased you can make for your entrance.
All new PVC, Timber and Composite doors offer supreme standards of performance and style, they also offer security high security.
But, as with everything in this world, they can sometimes cause problems.
Buy your door from DeDannan and you don't have to worry about a thing – thanks to our  warranty promise.
Unfortunately, some inexperienced installers who do leave homeowners suffering from door problems, inexperienced fitters can make your dream purchase a nightmare.
If you have been affected by an unscrupulous fitter and are having issues with your doors, our hints and tips may help you to repair the faults with a simple solution to the issue!
Warping, bowing or swelling
Closing the door properly is important to avoid 'warping' damage to the door panel.
For maximum support and increased security, you should 'throw the handle' when the door is fully closed so the top and bottom hooks are fully engaged.
If this isn't done, the door will be resting solely on the latch, which has the potential to result in long-term problems, such as 'warping or 'swelling'.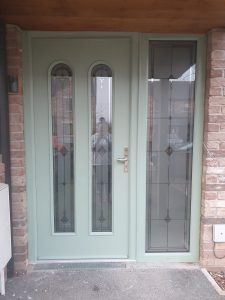 Mechanism and locks sticking
In order to keep your door in tip top condition you need to lubricate it at least every 6 months with a teflon based lubricant spray, if not it will start to stick and this can mean the moving parts will damage and wear 
Dropped hinges
Spraying the screws and central barrel with a light coat of lithium-based lubricant every six months should ensure smooth operation.
If the door does drop slightly, adjust the screws on the hinges or adjust the locking keeps and it should continue to operate efficiently.
Drainage issues
Most exterior doors come with a built-in drainage system, using slots and holes in the bottom of the door's threshold to ensure excess water runs off and stays outside your home.
Once or twice a year, make sure the drainage holes are clear and remove all dirt. If necessary, use water to completely flush the drainage slots.
Worn draft seals
From time to time, it's important to check that the draft seals fitted to your door are securely settled in their grooves. If they've become dislodged, slide them back into position so don't get damaged when closing the door.